Planning permission received for new school buildings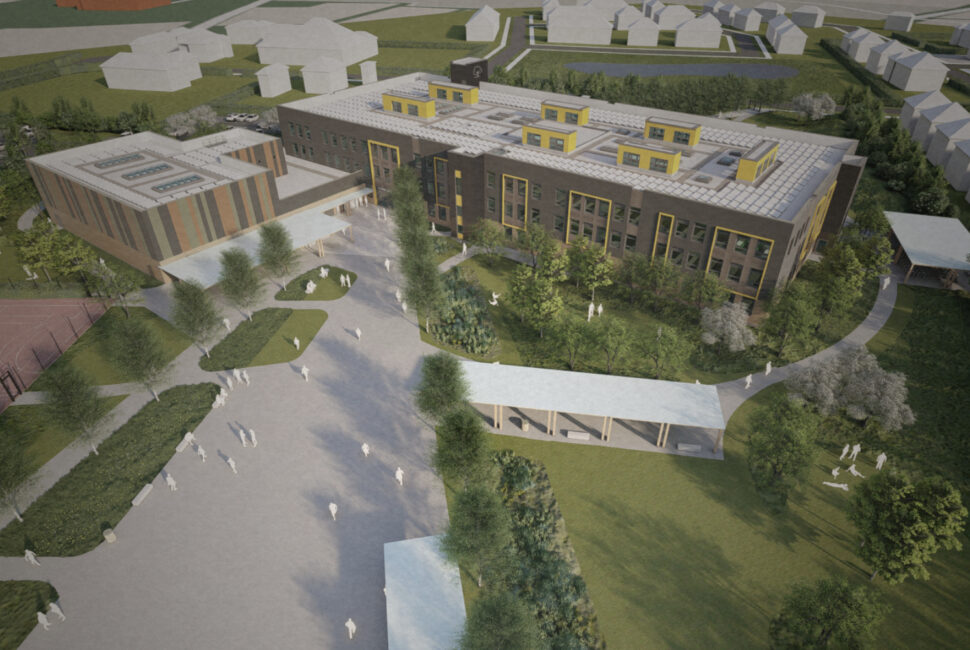 Last week Ashford Borough Council granted planning permission for Chilmington Green School's new school building to be built on Chilmington Green Road. This is excellent news and, as Principal Designate, I look forward to working with the main contractor Bowmer + Kirkland to create a school building we can all be proud of. Once complete, the new building will be fully equipped with the very latest teaching and learning facilities including science labs, spaces for creative and performing arts, design technology workshops as well as a purpose-built library and Sixth Form area. We will also have superb sports facilities, with a sports hall, activity studio and outdoor pitches.
As construction will begin this Autumn, it is unlikely that the new building will be ready for our first Year 7 students who will begin in September 2023. We will therefore open in a temporary building close to the site until construction is complete. The temporary accommodation will have all the facilities needed to deliver a broad and balanced Year 7 curriculum and extracurricular programme. More details about the temporary arrangements will be announced in due course.
It is, however, what takes place inside the school building which is most important. Offering a high-quality educational experience, Chilmington Green School will inspire, challenge and nurture students. In doing so, we will emulate the ethos and success of Wye School where I am currently Vice Principal. To get a better idea of what Chilmington Green School will be like, we are running a series of tours at Wye School at 9.15 am every Tuesday until 19th July. These tours will give you the opportunity to see a United Learning school in action and learn more about our plans for Chilmington Green School. I will also be available to answer any questions you may have. To book a tour, please email info@chilmingtongreenschool.org.uk indicating which date you would like to attend and specifying that you're a prospective Chilmington Green student or parent.
We are also hosting an Open Morning at Wye School on Saturday 16th July between 10am and 12pm. If you wish to attend, please sign up via this form or by visiting the Chilmington Green School homepage at www.chilmingtongreenschool.org.uk
Thank you for your continued interest in Chilmington Green School. If you have any further questions about the school, please do not hesitate to contact me at info@chilmingtongreenschool.org.uk.
Jon Rutland
Principal Designate
Chilmington Green School