New School Buildings
State-of-the-art new buildings
Chilmington Green School will be housed in state-of-the-art new buildings with specialist facilities including 9 science labs, spaces for creative and performing arts, design technology workspaces, with purpose-built library and Sixth Form areas.
The school will have excellent sports facilities, with a sports hall, activity studio and outdoor pitches. The site itself is designed for pupils to benefit from outdoor spaces specifically created for teaching physical activity and recreation.
The school will be one of the first in the country to be 'operating net carbon zero' and this theme of sustainability will not only be a core component of its buildings but will flow through the school's operational management, curriculum and enrichment activities. Students will be encouraged to travel to school in the most environmentally conscious way that they can safely manage and a student run Green Club will ensure that students and staff recycle, use technology in an energy efficient way and seek other means of reducing their collective carbon footprint.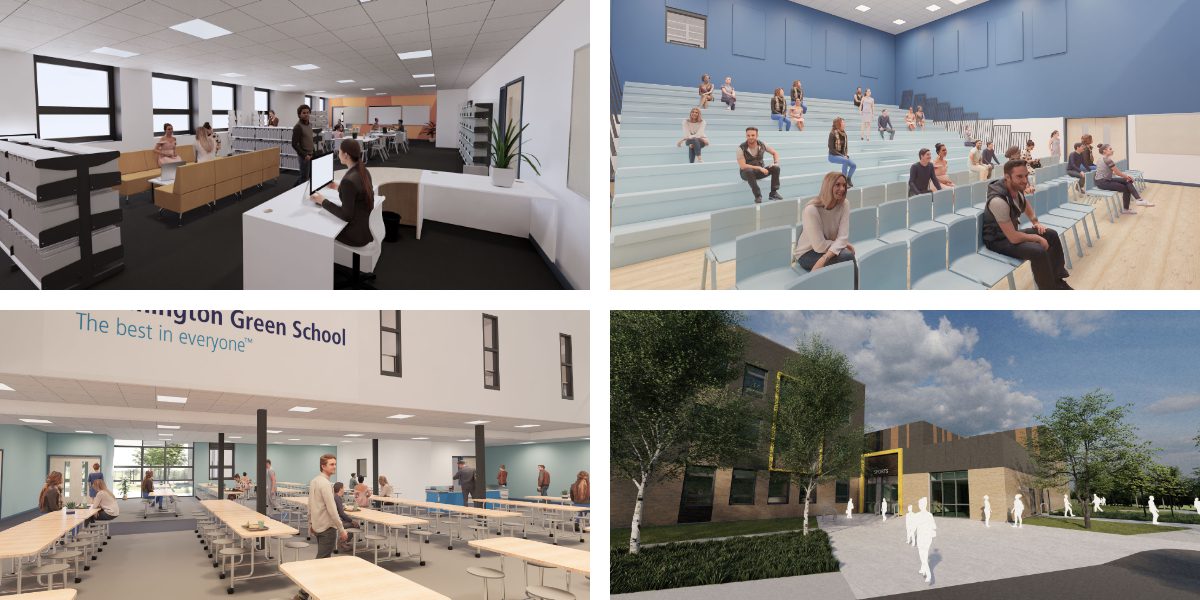 CGI image of School Building Copyright of Bowmer and Kirkland Limited.
Where will Chilmington Green School be built?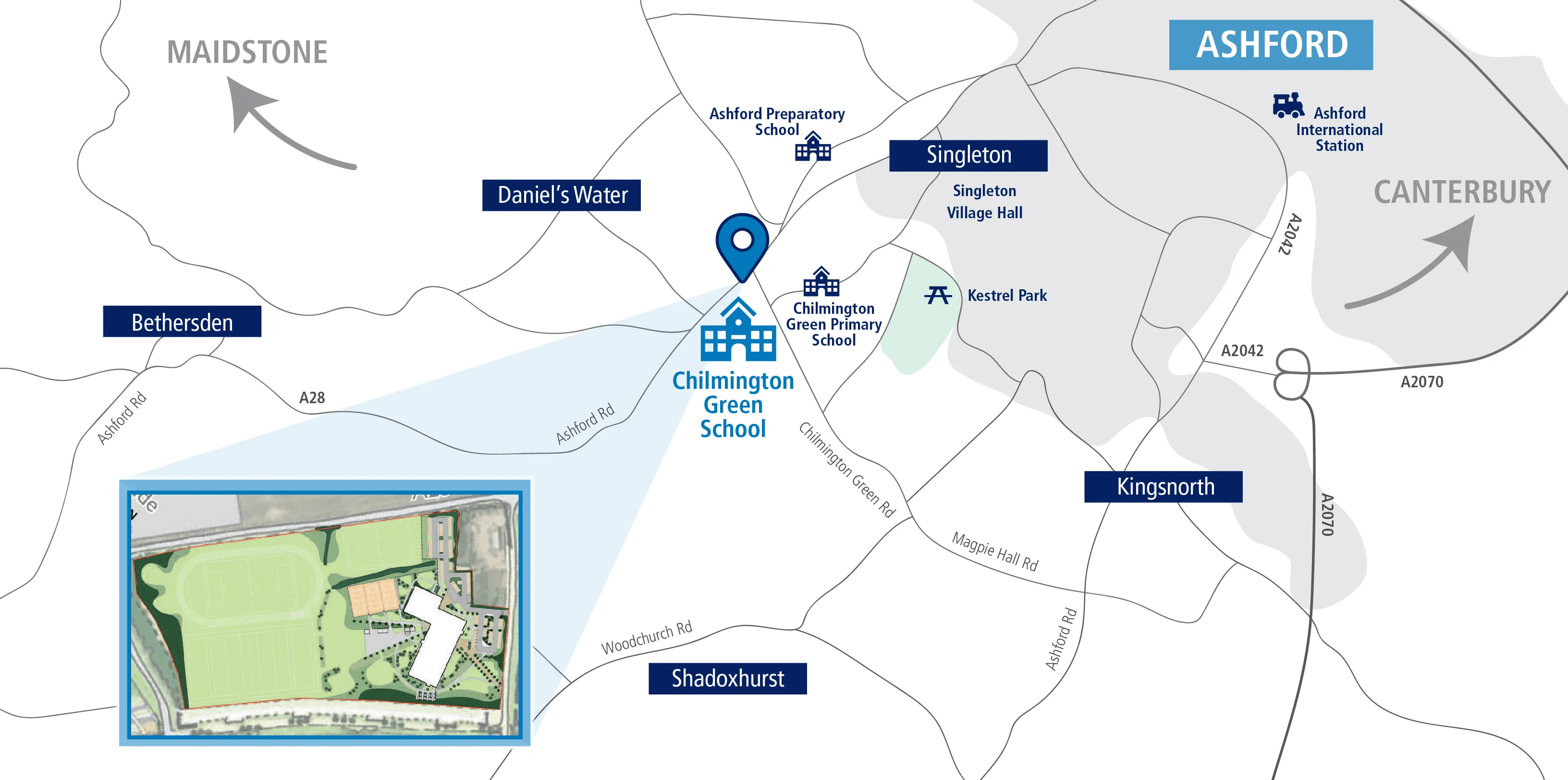 South of Ashford Garden Community
The South of Ashford Garden Community (SAGC) is made up of three developments, Chilmington Green (5,750 homes) and two proposed sites: Court Lodge (950 homes) and Kingsnorth Green (550 homes). Together they represent 7,250 homes (2,175 affordable), a 142 hectare public park along with new schools, a primary healthcare space, play spaces and ecological areas to be protected.
The SAGC is the thread which fastens together a series of distinct neighbourhoods emerging amongst the existing communities to the South of Ashford over the next thirty years and beyond. By providing good governance and a commitment to long-term stewardship, the SAGC will guide decision making on sustainable transport networks, green spaces, high quality landscaping and community facilities for the benefit of both new and existing residents.
Priority will be given to pedestrian friendly spaces, inclusive venues and carbon neutral living using sustainable technologies where possible, whilst promoting healthy lifestyles and community leadership.
In 2019 the SAGC was named as one of 19 Garden Communities by the Government. In 2020, Ashford Borough Council adopted a Vision and Strategy which includes a 5 year action plan for the Garden Community. Since then, key partners have been working to carry out this plan in consultation with local residents.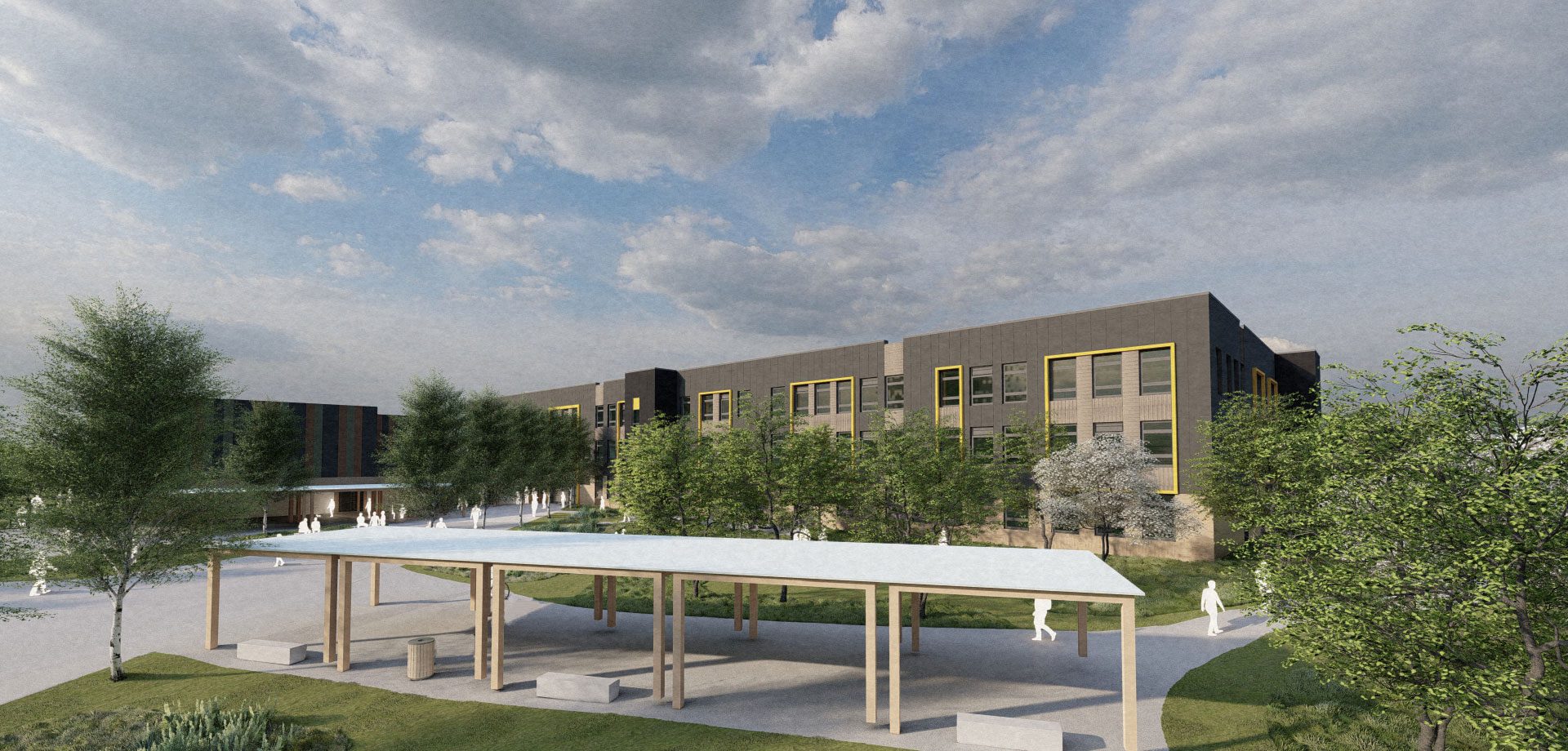 CGI image of School Building Copyright of Bowmer and Kirkland Limited.
Garden Communities – what are they?
Homes England defines a Garden Community as:
a purpose built new settlement, or large extension to an existing town
a community with a clear identity and attractive environment
it provides a mix of homes, including affordable and self-build
planned by local authorities or private sector in consultation with the local community
As well as building new homes, the communities develop:
job opportunities
attractive green space and public realm areas
transport infrastructure, including roads, buses and cycle routes
community infrastructure, schools, community and health centres
a plan for long-term stewardship of community assets
For more information visit www.southofashfordgc.com