Appointment of Principal Designate, Jonathan Rutland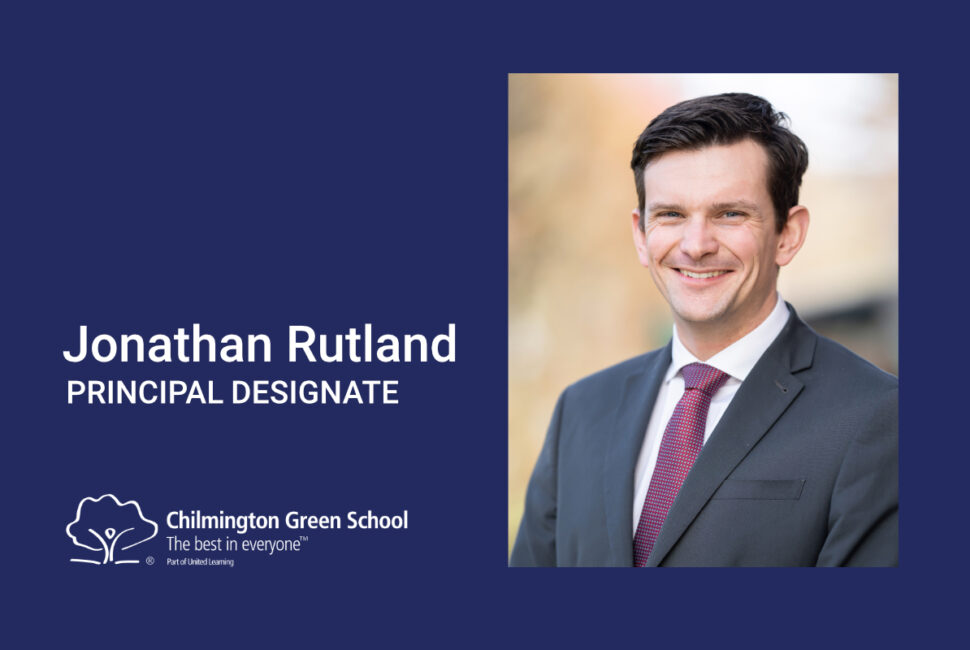 United Learning are very pleased to announce the appointment of a Principal Designate of its new Chilmington Green School. Mr Jonathan Rutland, who is currently Vice Principal at United Learning's Wye School, will become the school's first Principal when it opens in September 2023. Please find attached a letter from Jon Coles, Chief Executive Officer and Dame Sally Coates, Director of Secondary Education, welcoming Mr Rutland to the post.
Mr Rutland, who grew up in Ashford, began his career as an English teacher before taking on leadership positions at schools in New Romney and Hastings. He was appointed Vice Principal at Wye School in 2018 where his responsibilities have included Teaching and Learning, Pastoral Development, Behaviour and Welfare and Achievement and Assessment. Whilst at Wye School, Mr Rutland has re-designed the school's approach to literacy and enhanced its Education with Character provision. Beyond teaching, Mr Rutland is a keen long-distance runner and has run the London, Paris, Amsterdam and Brighton Marathons.
Mr Rutland's appointment follows an extensive recruitment exercise which attracted a strong field of candidates. Announcing his appointment, Dame Sally Coates, Director of Secondary Academies at United Learning, said:
"Throughout the recruitment process, Mr Rutland impressed the panel with his ambitious vision for the school, his strong track record in delivering high academic standards and his commitment to the local community. Having served as Vice Principal of Wye School for the past four years, Mr Rutland is well-placed to lead Chilmington Green and establish it as a high-achieving academic school. We have every confidence that under his leadership, Chilmington Green School will develop into a flourishing school that properly meets the needs of pupils it serves."
Mr Rutland will remain as Vice Principal at Wye School until Easter 2023. In the meantime, he will work closely with United Learning on plans for the school including the development of the curriculum and enrichment programme. He is also planning to meet with prospective parents over the coming months and we will hold Open Days in the summer and autumn term with dates to be released after May half term.
Commenting on his appointment, Jonathan Rutland said:
"I am proud to have been appointed Principal Designate of Chilmington Green School. This part of Kent boasts some exceptional schools and I am determined that Chilmington Green will be no different. Drawing on the experience of Wye School, I want Chilmington Green to be a school which sets high academic standards whilst nurturing and supporting our pupils to be the very best they can be. The opening of a new school presents fantastic opportunities for pupils and staff and I can't wait to start creating a school the whole local community can be proud of."
Applications for Chilmington Green School's first Year 7 cohort will open in September 2022. Admissions will be administered by United Learning and parents will be able to apply for Chilmington Green School through the school website: www.chilmingtongreenschool.org.uk/.
Please feel free to be in touch via the mailing box and follow the Twitter and Facebook accounts to receive further updates. Further information is also available from press@unitedlearning.org.uk.